April 17, 2013
Clear Lake Big Bass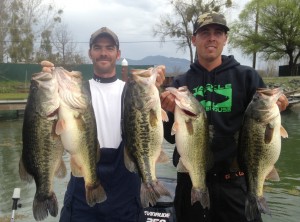 While pre-fishing for a tournament, especially on new water, keep your eyes open, for birds, bait, and even anglers fishing in areas of interest. Astute observation will shorten the learning curve and assist as you make your plan of attack to conquer a new body of water. I found myself doing exactly that on Clear Lake in early April.
Although I have written and published close to 40 articles about Clear Lake over the years, April 3, 2013 was the first time I wet a hook in the famed fishery. Looking at a map, the lake breaks down into three distinct areas: the north area which includes a wide variety of structure, docks, and vegetation; mid-lake which includes steep rocky points and rock-strewn coves; and then the far south area which includes southwest and southeast sections that also boast rocky structure, boat docks, sloughs, and "Keys." I chose to explore the north area first which led me to the infamous Rodman Slough.
Being ever observant, I noticed more than a dozen boats crowded around the outside of the mouth of the large channel fishing Alabama Rigs in 5 to 9 feet of stained water. As I watched, a fish or two were caught and I could see that Clear Lake largemouth bass weren't your average sized bass. Both fish taken among all those boats looked to average over five pounds. Coming from Utah where a five-pound bass will generally win big fish for most tournaments, I was excited to get started.
Wanting to get into the actual slough, I worked my way around the plethora of boats, found the channel and fished my way under a highway bridge and on towards the back of the slough. The water ranged in depth from 3 to 9 feet and as I threw my casting jig, pockets of thin grass clung to the lure after each retrieve. Grebes dotted the water and Cormorants lined the limbs of the trees drying their wings in the bright sun. This place looked, smelled, and acted "fishy". Not 10 minutes into my excursion into Rodman I caught my first bass. It weighed just less than six pounds and took a blue/black jig. To be completely honest, I wasn't even looking at my line when it hit. Something else had caught my eye.
Looking across the channel, I noticed two guys in a bass boat casting what appeared to be crankbaits. Then, within seconds of their lures hitting the water each would rear back and set the hook. I began to laugh inside because it appeared these two knew I was watching and were putting on a show for the newbie. But, after setting the hook on nothing but a little early spring grass, the two eventually began hooking bass. I watched them catch two fish at a time for four straight casts.
When I get into a school of fish, I generally catch a couple in the two to three-pound class and then the rest are one to two-pounders. These guys were boating five to eight pounders as if they were just average-sized bass.
I eased my way towards the pair and commented on the incredible string of "doubles." "There are a lot of fish in here," said one of the anglers who actually looked familiar to me. "We've been catching them almost every cast for an hour or so."
Then, I remembered seeing the same guy at Clearlake Bait and Tackle the previous evening after just getting into town. The store owner, Jimmy Ghiorso, had told me that he (John Pearl) and his partner Tory Mihalenko had won a recent tournament on the lake with just over 35 pounds for a one-day event.
John and Tory were kind enough to share their water and show me how they were catching the bass. A standard "grass" bite, they brought their cranks into the grass and would then "rip" the lures out of the grass and the bass, holding outside the grass lines would react and inhale the baits. After watching them catch another dozen huge bass, I finally found my groove and began recognizing the bites and catching a few as well.
"We have a lot of these areas around the lake," said Pearl. "These fish move around in large schools like this one, and we search around until we find where they are on a given day." Although my pre-fishing was interrupted by watching and then participating in their free-for-all bass-catching bonanza, I was fascinated with how a guy like John Pearl figured out how to catch fish on the lake where every dock, every bunch of tulles, and every grass bed or slough looked like perfect bass habitat.
As I applied what I had learned in the few minutes we spent together, my pre-fishing took on an entirely different posture. I began looking for grass beds, testing them out, and actually began to hone in on a very strong crankbait bite. I made a decision to discover more about John Pearl, and so I found his phone number from the tackle store, gave him a call and set up an interview. Part two of this story is dedicated to this successful tournament angler and how he prepares for each team event.
Please follow and like us: